Discover more from Without a Trace
The most relevant genealogy news, helpful resources and search tips to enrich your own family history research. Delivered to your inbox every Friday.
Over 4,000 subscribers
Be a Good Ancestor: Create a Pandemic Scrapbook
Issue #02 - Pandemic
Hello and welcome to Without a Trace! This week we're looking at the way we -- you, me, our ancestors, and our future descendants -- cope during global pandemics. While some things have changed in our approach to public health, most of the big things have remained the same: it's important to wash your hands and everybody looks kinda funny in a mask. Take a look below.
---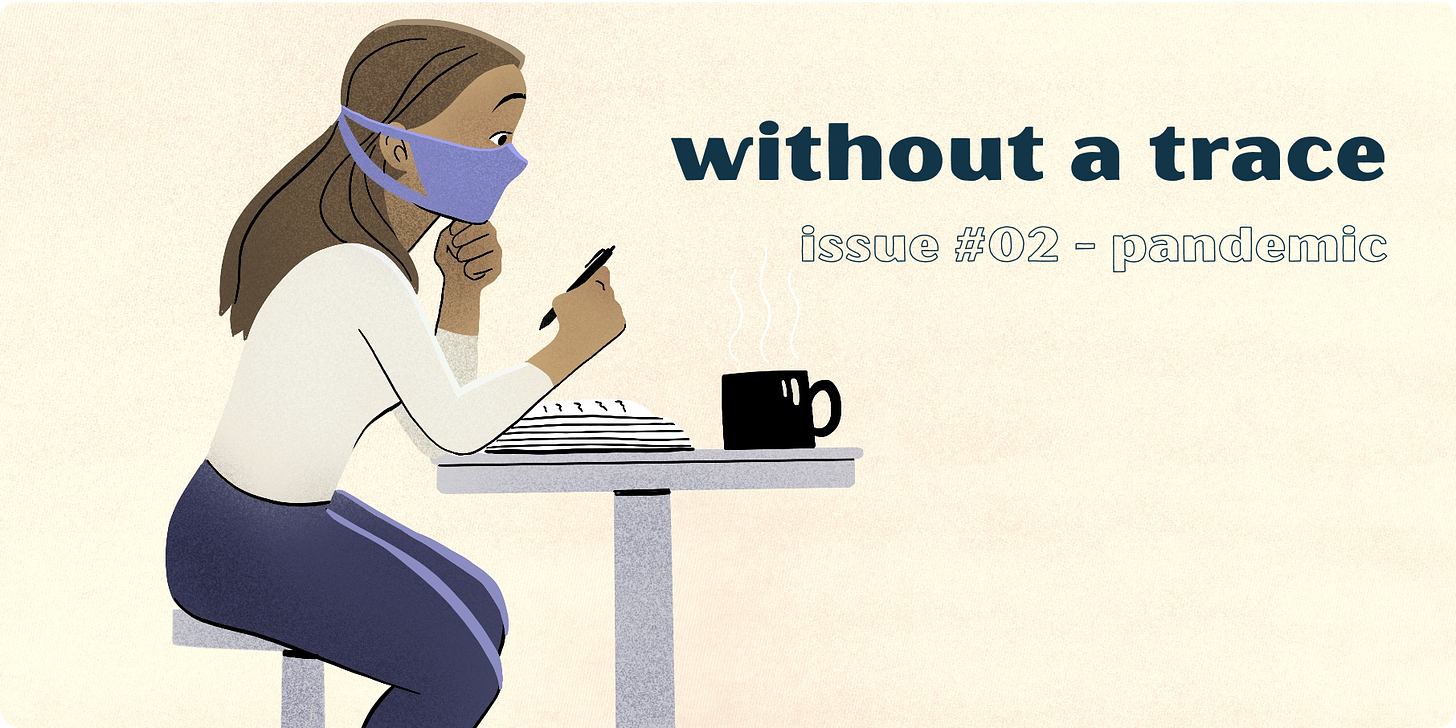 "Yes, I wore [a mask], and so did everybody else," Hildreth Heiney wrote in a letter to her boyfriend, a soldier stationed overseas. "There were all kinds—large and small—thick and thin, some embroidered and one cat-stitched around the edge." The state of Indiana had just ordered the wearing of masks in public places. The date was November 21, 1918 and the epidemic was Spanish Influenza. 
After reading the personal letters and diaries of people like Heiney, the strange new reality of COVID-19, with its social distancing, handwashing, and mask-wearing, seems a little less terrifying. Heiney, a teacher, mentioned that school was canceled for four weeks due to the pandemic,"which almost cured me of any desire to teach school." 
As family historians, we're grateful to our ancestors who kept diaries and copies of their correspondence. But what do we owe to our own descendants? 
One simple gift you can give your family is a record of your time during the COVID-19 pandemic. It doesn't have to be long or complicated, just a note or a news item about how life is going while we cope with this new (to us) phenomenon. 
You could turn a Pandemic Scrapbook into a family project: younger kids can offer their memories in the form of drawings or short poems and far-flung relatives can share their experiences via email. Bind it all up in a scrapbook and you've got an item of real historical value to hand down to your family. 
Who knows? In a hundred years your great-great grandchildren might be marveling about all that time you spent watching Netflix in April. Hey, no judgment. As Hildreth Heiney wrote during the flu epidemic of 1918, "O, this is a great old world! And one should surely have a sense of humor."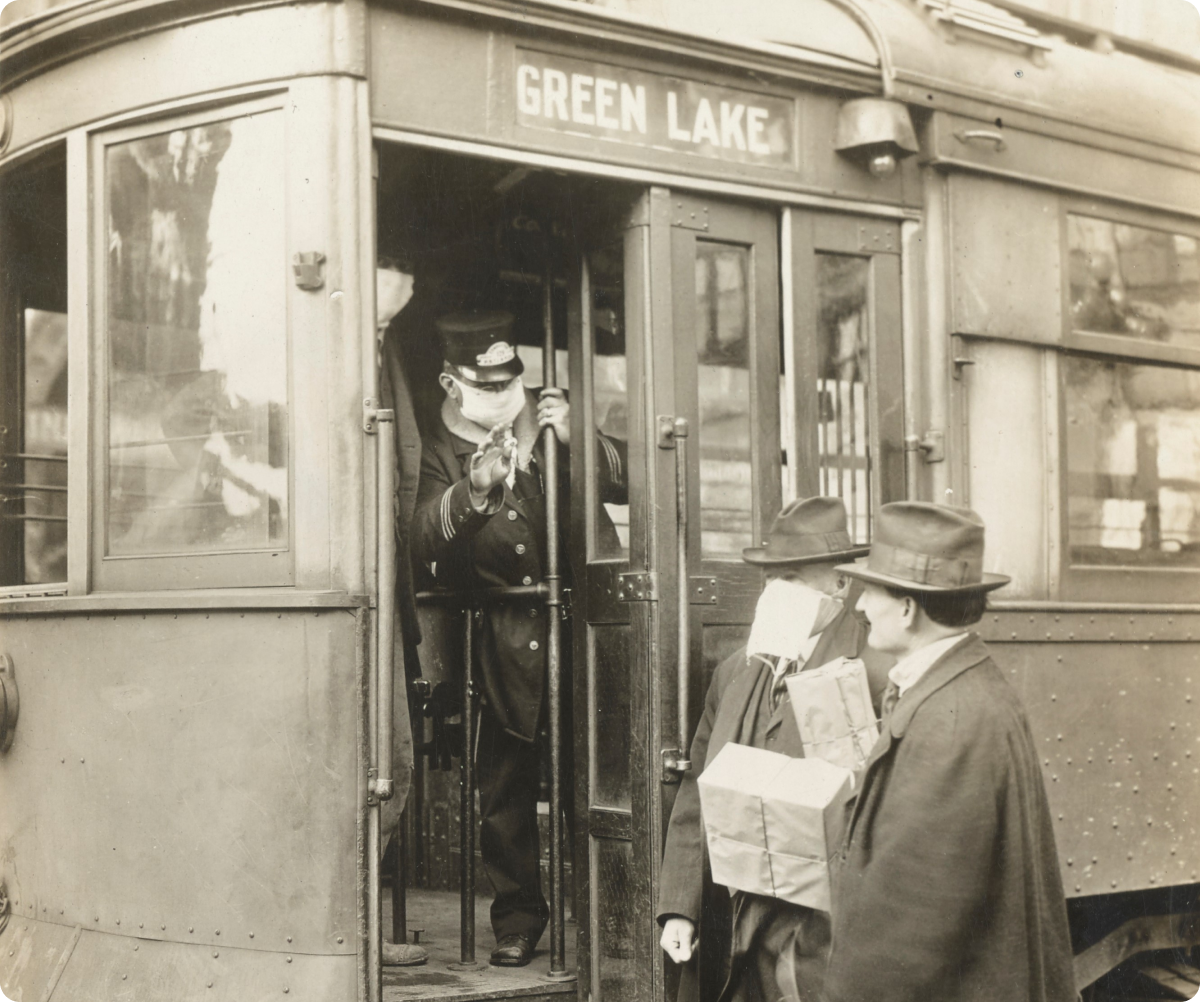 During the 1918 Influenza epidemic, passengers were not permitted on street cars in Seattle, Washington with masks - a precautionary measure to help slow the spread of virus that was ravaging the world.
One more thing…
The 1918 Influenza Epidemic killed an estimated 50 million people.  That's more than three times as many lives lost in World War I.  The flu affected more than 25% of the population of the United States, and in a single year dropped the life expectancy of the average American by 12 years.
---
Weekly Discoveries
---
Did the 1918 Influenza Epidemic claim the lives of your ancestors?  Look beyond the obvious….
Despite being referred to as the Influenza Epidemic of 1918, the illness claimed lives in waves into 1919 and in some areas of the United States even into the early 1920s.
Historic newspapers can be useful, however, one should look beyond obituaries.  Oftentimes large, comprehensive articles were written detailing deaths of community members, especially when a large quantity of lives were claimed due to a singular cause during a given time period.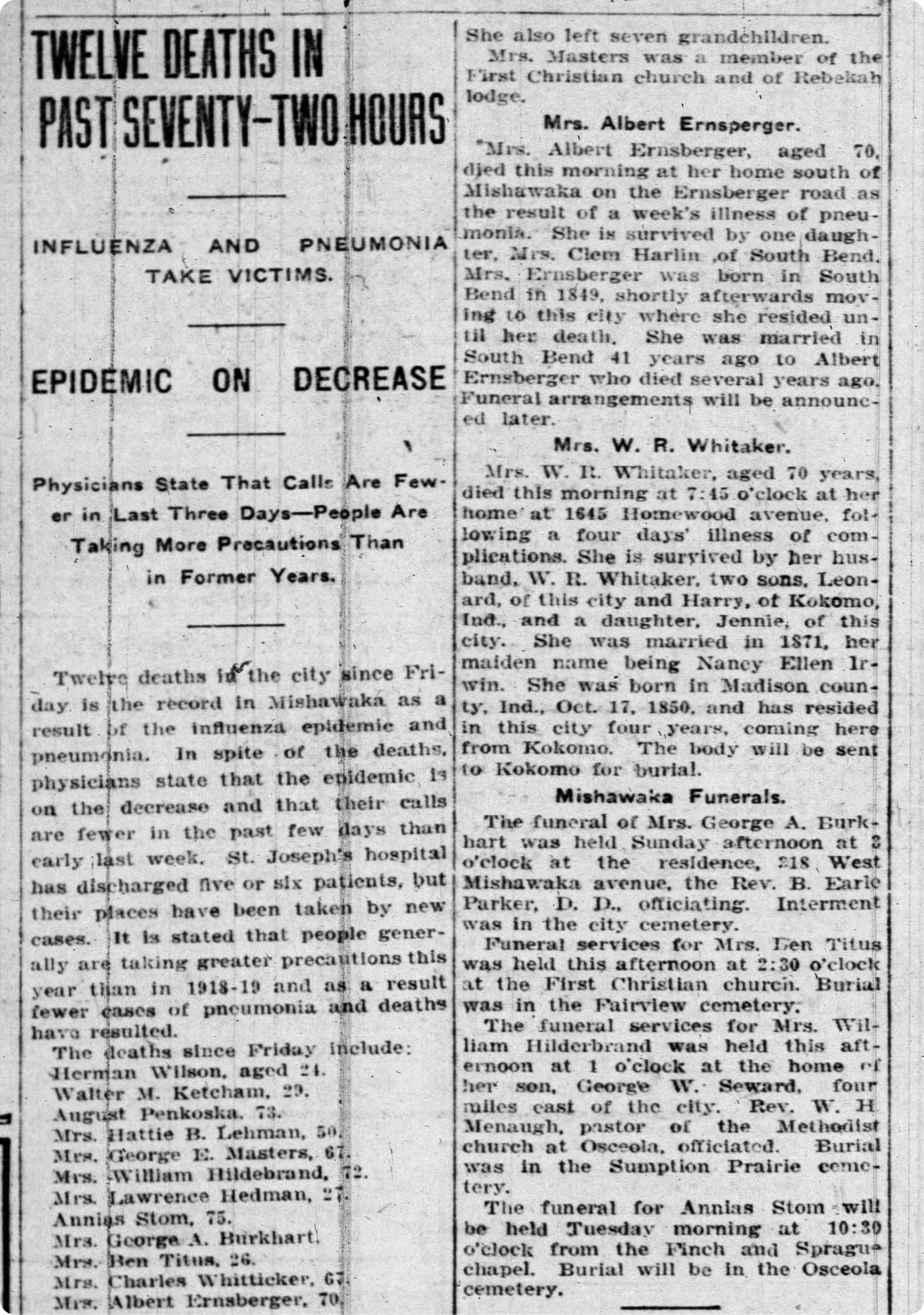 Records, such as the seven-volume collection Cadaver Receiving Books, 1901-1965, held by the Pennsylvania Historical & Museum Commission, which identified bodies ravaged by the flu from October 1918 - December 1918 and included details such as name, age and place of birth.

Death certificates for ancestors who succumbed may have the cause of death attributed to pneumonia, if not influenza.

Compare families in the 1910 Census and remuneration of 1920, coupled with death records or obituaries to identify if your ancestors were possibly affected.

For areas where civil death records were not yet maintained, consult cemetery or funeral home records, which can sometimes include genealogically-pertinent details, such as cause of death.
---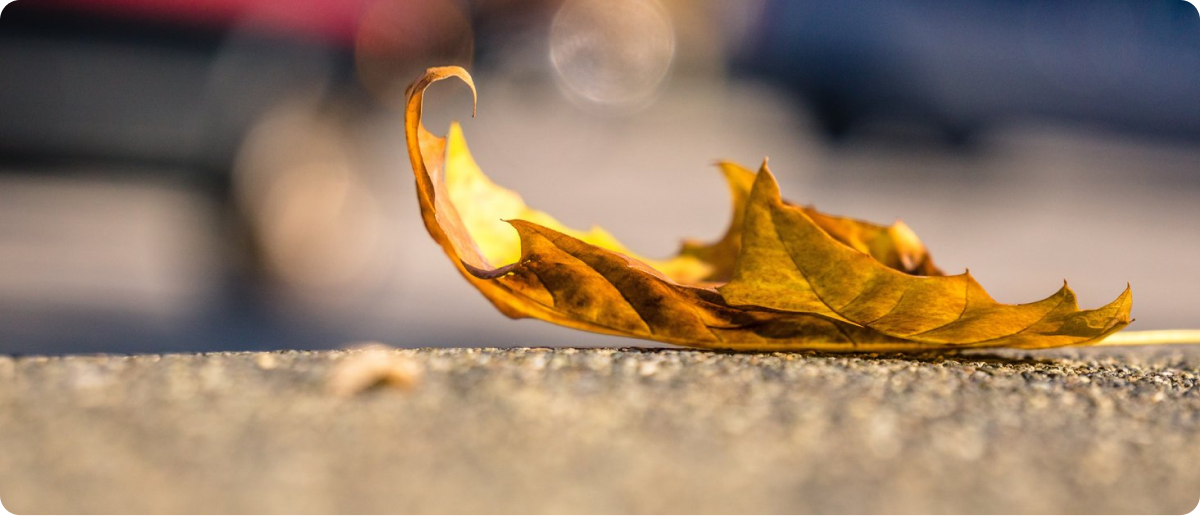 Beginner's Guide: Don't Click The Leaf!
A word of caution regarding online Ancestry.com research in our classic blog post.
---
Sources... Duh!
Jessica Klein, Atlas Obscura (https://atlasobscura.com : accessed  6 October 2020), " A Trove of Sad, Funny, and Familiar Stories From the 1918 Flu Pandemic: A UCLA librarian has built a remarkable collection of century-old letters, diaries, and photographs."
National Archives and Records Administration (https://archives.gov accessed 5 October 2020), "The Deadly Virus:  The Influenza Epidemic of 1918."
Commonwealth of Pennsylvania, Pennsylvania Historical & Museum Commission (https://www.phmc.pa.gov : accessed 5 October 2020), "1918 Influenza Epidemic Records."
Trent Toone, DesertNews (https://deseret.com : accessed  7 October 2020), "'Tip of the iceberg': How it's now possible to search 8 billion names on FamilySearch.org,"
Maggie Fox, CNN (https://cnn.com : accessed 7 October 2020), "Neanderthal genes may be to blame in some severe coronavirus cases."
---
Congratulations, you made it to the bottom.
See you next Friday! 👋🏼