The Genealogical Path to the Golden State Killer: how family trees can help solve crimes.
Issue #01 Crime
Hello! Welcome to Without a Trace, the free weekly newsletter from the genealogy professionals at Trace.com. Our goal is to bring you the most helpful genealogy news and tips to enrich your own family history projects. With access to tens of thousands of genealogy resources and archives as well as the unmatched experience of our hardworking, multilingual researchers around the world, Without a Trace gives us the opportunity to bring the best of it to you.
Thanks for reading and keep in touch with your thoughts and suggestions! Because we're obsessed with this stuff, too.
- Wesley Eames
---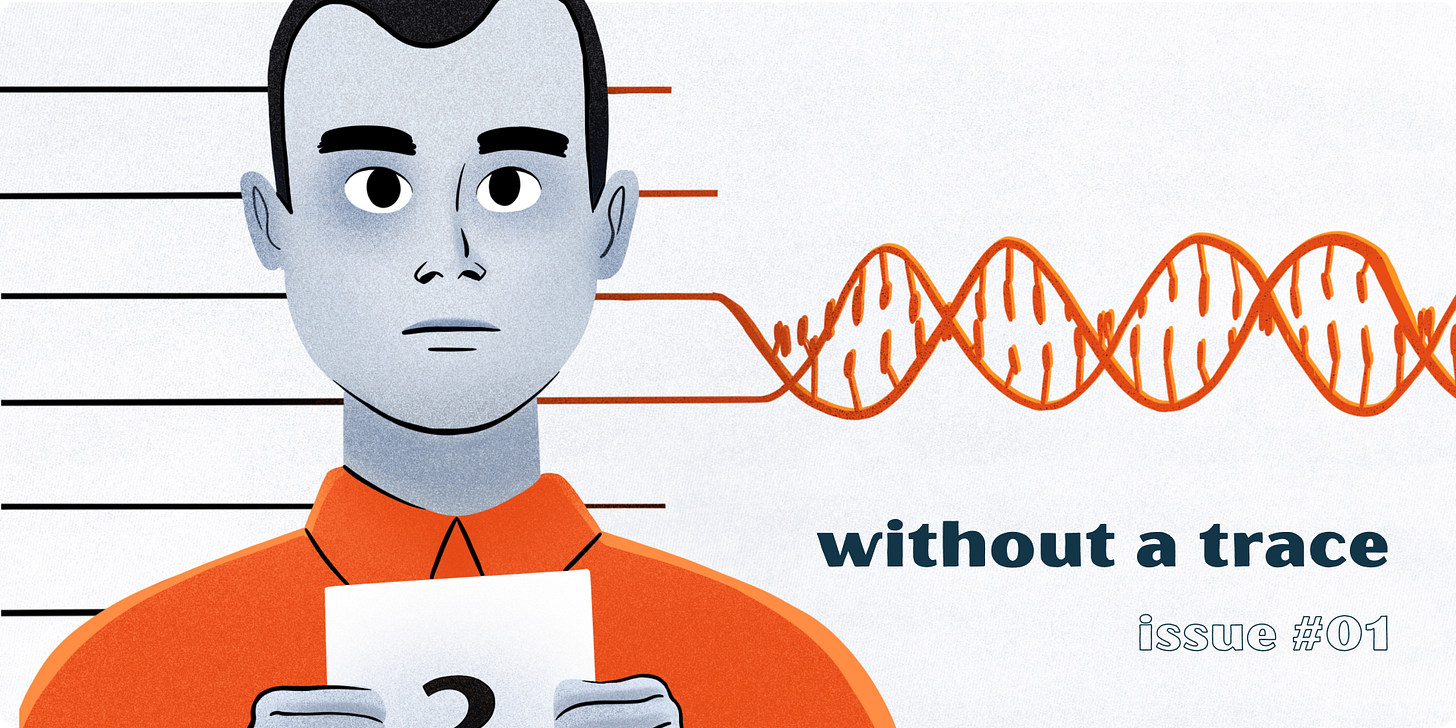 In the past 20 years DNA testing has become the single biggest destroyer of brick walls in genealogy, and family historians love it for that. But DNA is only useful to genealogists when it's shared on a public forum such as Ancestry.com or GEDMatch. In 2018, genetic technology company Parabon Nanolabs made the news for using DNA to help police track down the Golden State Killer, serial rapist and murderer Joseph James D'Angelo (now serving multiple life sentences in a California prison). The DNA results used to locate D'Angelo was obtained not from law enforcement, but from the popular genealogy website GEDMatch.com.
Family history researchers use GEDMatch to compare ancestral heritage with others who submit their DNA results, helping to fill out family trees down to the level of fourth cousins (those who share the same pair of great-great-great grandparents). To find the Golden State Killer, Parabon used this same information to compare the publicly-available GEDMatch DNA results with crime suspects. They didn't expect to find the killer himself, but hoped they might come across a distant relative. And they did. After DNA taken from one of the Golden State Killer crime scenes partially matched several distant relatives, law enforcement had all the probable cause needed to obtain a sample of Joseph James D'Angelo's DNA (swabbed from his car door handle) and the 35-year-old mystery was solved.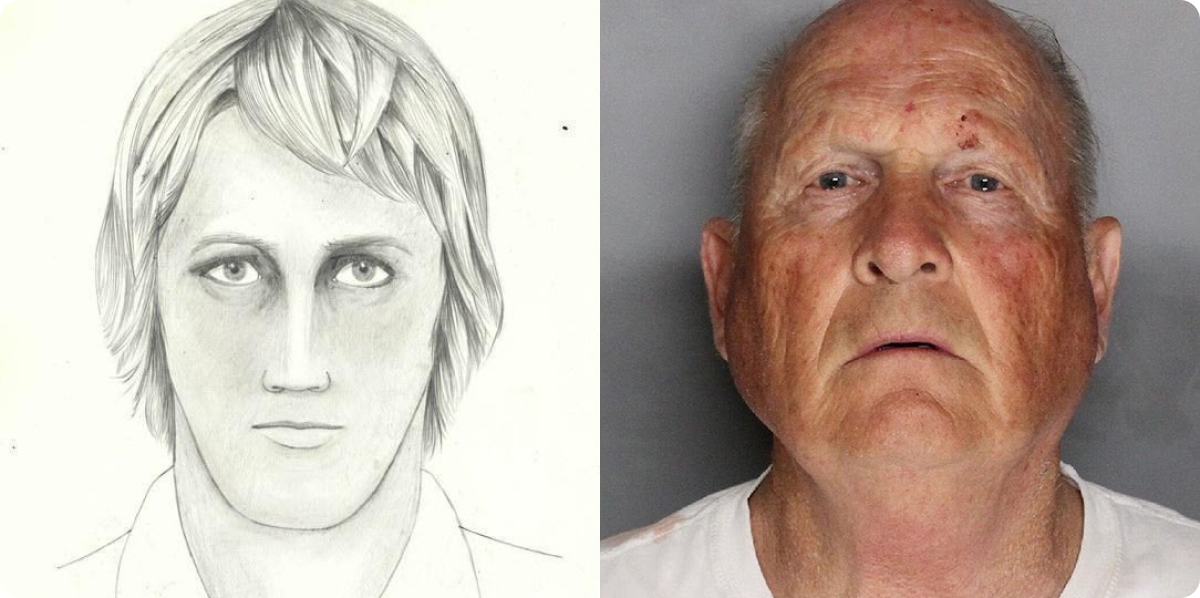 For years, dated police sketches such as the one above (image above from the 1980s) were the only clues to the identity of the Golden State Killer (at right, Joseph D'Angelo as he appeared at his arrest in 2018). As the decades passed, these aging images obviously became less and less useful. Without a deathbed confession or DNA evidence, the Golden State Killer would probably never have been caught. (Image: NPR.org)

Currently GEDMatch contains the genetic genealogy information of only about 0.5% of the American population, mostly white adults. If that percentage rises to as little as 2% of the population, however, most Americans of European descent (up to 90% of them) will be able to find at least a third cousin using GEDMatch -- even if they have never gotten or shared DNA test results themselves. "In a few years, it's really going to be everyone," said Yaniv Erlich, a computational geneticist at Columbia University and author of a 2018 research study on genetic forensics. Surprising? Maybe. But as genealogists know, the deeper we search for specific individuals, the more extended family we discover. Sometimes we find a killer.
---
Weekly Discoveries
---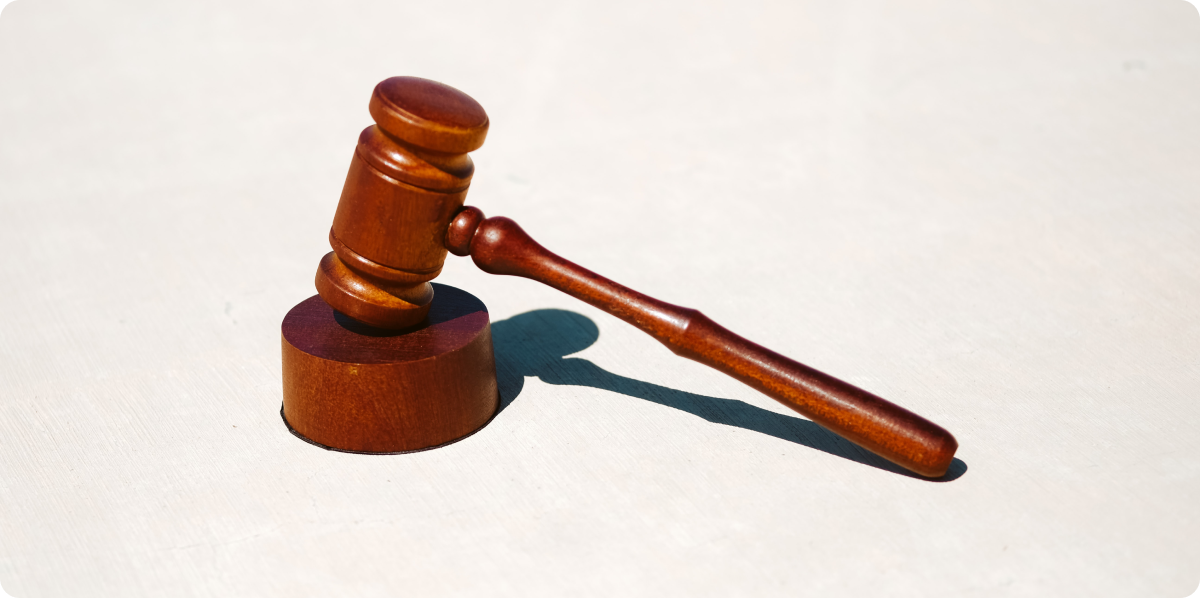 Occasionally, Crime Does Pay: finding your felonious ancestors
It's not only the rich and successful who left detailed records of their lives behind. That notorious great-great-uncle of yours might have, too, if he spent any time in a workhouse. Colonial Americans brought the tradition over from England and Ireland, where criminals and those who were simply too poor to support themselves were often remanded to a workhouse where they would live and work off their debts to society.
Beginning iIn pre-Revolutionary America, workhouses functioned as prisons, a place where criminals could be separated from the general public and, theoretically, rehabilitated through hard work. During the 18th century, imprisonment in jails began to rise and the use of corporal punishment (e.g., forced labor in workhouses) declined.
Workhouses resurfaced toward the 19th century, when they were utilized as part of social relief programs for vagrants and "unruly servants." You didn't have to be a dangerous criminal to be sent to a workhouse, which is why their records and archives are so useful to family historians today: many, many working people were sent there, perhaps an ancestor or two.
Generally organized by county, workhouse and more general prison records can provide a wealth of information to researchers. The Pennsylvania State Archives, for example, offers detailed county-by-county lists of prisoners, escapees, and employment records for workhouses. These institutions persisted longer than many realize; the Allegheny County Workhouse and Inebriate Asylum at Claremont (Pennsylvania), for instance, opened in 1869 and was only closed in 1971.
Who says all your ancestors were law-abiding citizens? If you're lucky, they might just turn up in prison.
---
Sources… Duh!
Carrie Arnold, Nature (https://nature.com : accessed 1 October 2020), "The controversial company using DNA to sketch the faces of criminals."
Laurel Wamsley, NPR (https://npr.org : accessed  1 October 2020), "After Arrest Of Suspected Golden State Killer, Details Of His Life Emerge."
Jocelyn Kaiser, Science (https://sciencemag.org : accessed  1 October 2020), "We will find you: DNA search used to nab Golden State Killer can home in on about 60% of white Americans." 
Occasionally, Crime Does Pay: finding your felonious ancestors
The National Archives (https://colonialmaerica.amdigital.co.uk : accessed  1 October 2020), "Against unruly servants."
Pennsylvania Historical & Museum Commission, (https://phmc.pa.gov : accessed  1 October 2020), "Prison Records."